Emily's Halloween Adventure
Mod APK Full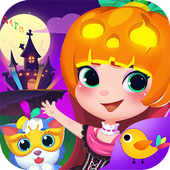 Date:2018-10-19
OS:Android 2.3.4+
Category:Educational
Version:1.1
Ding dong! Ding dong! Trick or treat! Trick or treat!
Mwaa-haha. It's Halloween, the most bewitching time of the year! People are more than thrilled, spooky is high in the air, and parties are thrown everywhere. This lovely night, a mysterious letter that invites Emily to a big party finds her. She decks out in best Halloween attire and heads to the party. It's a long way to the manor. What will she meet on her way there? Bouncing pumpkins, flying witches, or swirling ghosts…? There is an adventure full of wonder, mystery and fun awaiting. The excitement is itching, no more waiting. Join us for an adventure of magical crazy fun.
How to play:
Open the game to enter the town. Aww, little Emily didn't get herself dressed yet. Don't worry, just tap the dressing room. A fun new look will get her into the Halloween spirit. How about dressing up as a cute witch? Give her a fabulous makeover with flattering costume and fantastic hairdo by using the tools on the left, and a cool glass will definitely amp up the whole look. Oh, don't forget to take her cute little bag so she can grab some sweet treats at Uncle Jim's Candy Store. Tick Tock! Tick Tock! Are we all good? Take the wand and get moving, or we'll be late for the party. Go through the forest where we can teach the naughty ghosts a lesson or two, meet the mysterious witch in her house, get rid of the scary fish in the magic lake, and even help a poor werewolf finish his transformation. Sounds interesting? Now, come with us and kick off the special adventure the right way!
Features:
- A host of surprises, goodies and treats are right there.
- Great mini games fill to the brim with fun
- A great array of cool costumes prepared
- 11 mysterious characters and a fun-filled party
- Have fun with fellow trick-or-treaters at cool candy store
About Libii Game:
With over 300 million downloads and growing, Libii is committed to creating innovative games for kids. We'll keep working on establishing a good relationship with both parents and their children and bringing a healthy, happy atmosphere for them.
Visit us: http://www.libii.com/
Like us: http://www.facebook.com/LibiiGame
Contact us:
Got any ideas? Suggestions? Need technical support? Please feel free to contact us 24/7 at
[email protected]
Need You Know:
This app is totally free to download and play, some basic items are also free to use, but some additional items need you to purchase and pay to unlock. Therefore, if you do not want to use these items, please turn off the in-app purchase in your settings. Thanks.
Download 100% working mods.