Pet Halloween Night
Mod APK Free purchase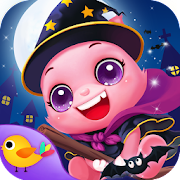 Date:2018-10-04
OS:2.3 and up
Category:Educational
Version:1.0
Unlocked items
Unlocked all in-game purchases
Hurrah! Hurrah! Welcome into Libii's "Pet Halloween Night"!
In this game six super cute animals will spend the exciting festival with you! Wow~ Hurry to pick the one you love and set out on the marvelous Halloween trip.
Trust us, the fantastic costumes here will turn your pet into a much-anticipated star. And the various mini games will impress you with their fun and uniqueness, such as making jack-o-lantern, blowing the scary balloons, enjoying spooky cakes, taking photo stickers, doodling and so on. If you are keen on adventure, then the Haunted House is created for you!
Hey, life's no fun without a good scare, let's get addicted to "Pet Halloween Night"!
How to play
Open the game and choose your favorite animal to start. Your first sight will be caught by several houses on a street, where you can easily enter by knocking the door. Firstly click your cute little thing's home and get it dressed up there. After that, you can return to the street with the back arrow. Next is the treat-or-trick time, slide the screen then freely choose a house to play the mini games. And whenever you want to take a snap, the Photo Booth will be an unmissable place to go. Besides, all the mysterious things in the Haunted House are waiting for you to unveil. Can't wait to check out the surprises behind the doors? Go ahead~ It's a now-or-never chance to experience the extraordinary night.
Features:
- 6 super cute animals
- Plentiful delicate costumes
- 7 interesting mini games
- Mysterious haunted house and fun-filled photo booth
- An unforgettable Halloween feast for you
About Libii Game:
With over 200 million downloads and growing, Libii is committed to creating innovative games for kids. We'll keep working on establishing a good relationship with both parents and their children and bringing a healthy, happy atmosphere for them.
Visit us: http://www.libii.com/
Like us: http://www.facebook.com/LibiiGame
Contact us:
Got any ideas? Suggestions? Need technical support? Please feel free to contact us 24/7 at
[email protected]
Need You Know:
This app is totally free to download and play, some basic items are also free to use, but some additional items need you to purchase and pay to unlock. Therefore, if you do not want to use these items, please turn off the in-app purchase in your settings. Thanks.
Download 100% working mods.