Stethoscope Simulator
Mod APK Unlocked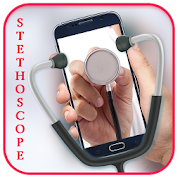 Date:2019-03-12
OS:4.1 and up
Category:Simulation
Version:1.3
Wonder how a stethoscope works? Have you tied using a Stethoscope? Try it using this application. This application simulates how a stethoscope works.
Just download this application, start the app and place it on your chest near your heart and stethoscope simulation will start and give out result of your heart beat.
Note : the heart beat result is not true and you shall not rely on the result of this app. The app gives out random heart beat result. The purpose of the app is simulate the working of stethoscope and may be used to prank your friends and have fun.

Working the app :
- After starting the app, place the phone on chest near heart.
- The app will start simulating the measurement of your heart beat. Hold the mobile near to heart unless the result is spoken out.
- You can try it on your friends and family and play prank on them.
Download 100% working mods.