Nexus 5 Squared IconPack
Paid for free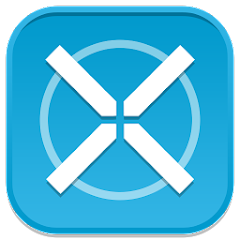 IconPack for Action Launcher, ADW Launcher, ADW EX Launcher, Apex Launcher, Atom Launcher, Aviate Launcher, CM Theme Engine, Go Launcher EX(Z), Holo Launcher, Holo ICS Launcher, KK Launcher, L Launcher, LG Home Launcher, Lucid Launcher, Mini Launcher, Next Launcher (2D Mode), Nova Launcher, S Launcher, Smart Launcher, Smart Launcher Pro, Solo Launcher, TSF Shell, Unicon Launcher Pro and other!
Suports more than 20! launchers
Good reviews and high ratings lead developer in delight! Show your love, if you want this theme became even better
Round icons:
https://goo.gl/GGdhtt
Features:
• Material Design dashboard
• Analog clock widget
• Muzei Live Wallpaper support
• CyanogenMod Theme Engine support
• 40 high resolution cloud based wallpaper of the theme - including the original wallpaper
• 670 xxxhdpi icons (192x192 px) special icons, and more will come with time.
• 15 iconback colors that replace everything application icons (now there will not be a different theme icons)
• Icon preview in the application
• IconRequest Tool
• 10 Zooper Widget templates
• Tablet layouts
• App works as a gallery so users are able to pick pictures to use them in other apps.
• Dashboard texts are translated to more than 10 languages, and more will come with time
• How to apply the icon pack:
Open the app - slide to right - find Apply section - press on your current launcher name
••• If you encounter any problems or have any suggestions for our themes, please do not hesitate to tell us. Thank you very much! •••IMPORTANT:
For users
Next Launcher,
there is a separate patch! Write me an email, I will send it to you !!! The problem in the package name. Can't fix it. Sorry
You can write your wishes on email:
[email protected]
or
Facebook: https://www.facebook.com/dmk.design
Google+: https://plus.google.com/u/0/114355574449421909452/posts
All my themes:
http://goo.gl/ALxiVe
Download 100% working mods.