Profanation 2: Escape from Abu Simbel
Premium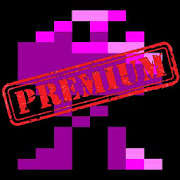 Version:1.6.8
OS:2.3 and up
Category:Arcade
Date:2019-05-07
WHITHOUT ADVERTESIMENTS!!!

The most difficult game of all time, now for Android!

Sequel to the legendary game of the 80s, Profanation

The search for treasures in the Temple of Ramses II had cursed him for life, but the words he heard in the mortuary chamber gave him, even at that moment of terror, a hope: 'see you at the north Pole'.
If his calculations were correct, he would have to cross the hollow earth through the zone os stones, the jungle zone or the ice zone according to the legends, in his step towards the center of the earth hoping to reach 'the pole'... hoping to escape through one of those exits that history explained in a secret place where no one had ever left his mark... in short, hoping to escape Abu Simbel.
Download 100% working mods.